Focus on what makes you successful, and let EB xelor manage the rest
EB xelor is an all-in-one vehicle HPC software platform for creating next-generation automotive electronics architectures based on high-performance computers (HPCs). Combining leading Elektrobit products, third-party software, and open-source components, EB xelor is a complete foundation that allows you to manage complex projects, enhances software innovation and differentiation, and accelerates your time to market.
EB xelor is a ready-to-use HPC development platform that can host your applications from day one. Combining leading automotive software products with thousands of hours of project experience, EB xelor is a pre-integrated system that can reduce your HPC engineering efforts by up to 30%.
EB xelor provides automotive-grade security and stability over the long term, combining more than 30 years of Elektrobit's software development with the latest technologies. EB xelor includes a continuous stream of updates, security maintenance, and new features from Elektrobit's products – allowing you to reuse and scale existing software over the vehicle's lifetime.
Focus on innovation and differentiation
In the rapid transition to intelligent and connected vehicles, software differentiation is critical to maximizing ROI. EB xelor provides everything you need to develop secure, stable, and upgradable software stacks for next-generation HPCs, allowing you to spend less time on infrastructure – and more time on innovation.
The flexibility you need to
create next-gen HPCs
Vehicle architectures are evolving from complex networks of individual electronic control units (ECUs) to a handful of ultra-powerful HPCs. EB xelor enables you to decouple hardware and software, which reduces the complexity of future vehicle designs, simplifies integration efforts, and improves flexibility.
A wealth of knowledge,
without additional payroll
EB xelor replaces expensive in-house software development with a scalable platform optimized and pre-configured for all SoC and HPC use cases. EB xelor is an integrated, ready-to-use product that manages all your non-differentiating software requirements – and lets you focus on what makes you successful.
Ongoing support from an
industry leader
With EB xelor, you're backed by a global partner that has already powered over one billion devices in 100 million vehicles. EB xelor includes our industry-leading product support, updates, and ongoing technical assistance for your complete peace of mind.
Optimized for new HPC environments using next-gen system-on-chip (SoC) devices such as NXP S32G and Renesas R-Car H3.
Includes extra tools and services to automate builds and facilitate integration
Contains advanced third-party software from Renesas and NXP
Automotive-grade security and stability over the lifetime of a vehicle via continuous updates and validated integrations
Capable of a broad range of system configurations to fulfill complex HPC requirements
Enables ongoing software reusability, interoperability, and scalability
Adaptable to different use cases including body controllers, UX systems, and ADAS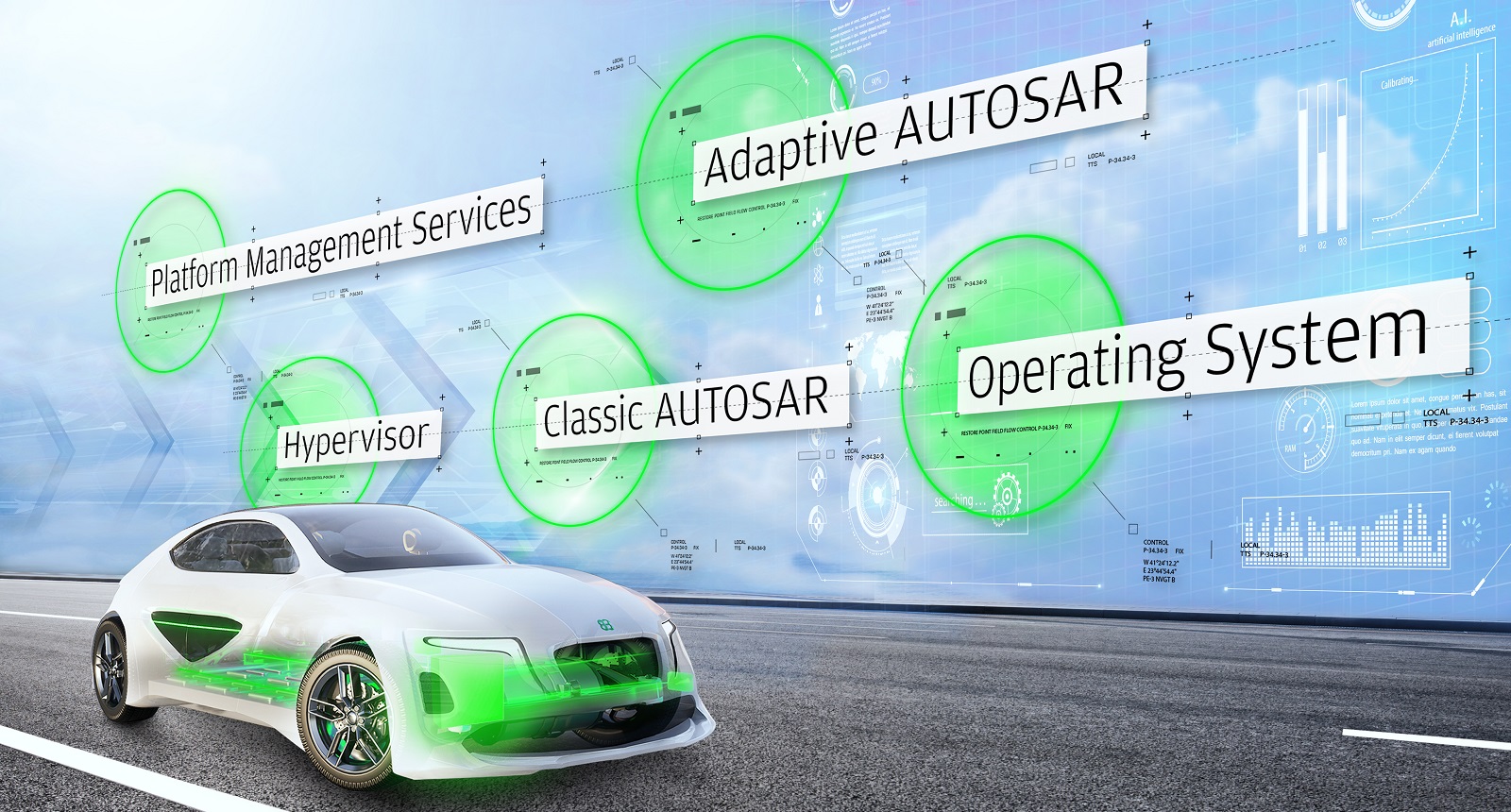 Classic AUTOSAR basic software, operating systems, and a tailor-made tool environment.
A complete software base for safe and secure high-performance controllers, providing a holistic software framework according to the new Adaptive AUTOSAR platform.
A virtualization environment to execute multiple guest operating systems on a single CPU. Virtual machines are spatially and temporally isolated to support security-critical, safety-related, and real-time applications.
A container-based Linux distribution for the automotive industry that solves the challenges of dependency management between diverse applications, offers variability for customer extensions, and enables efficient long-term maintainability.
Further information on Elektrobit's ECU software solutions based on AUTOSAR